FLOATING MARKET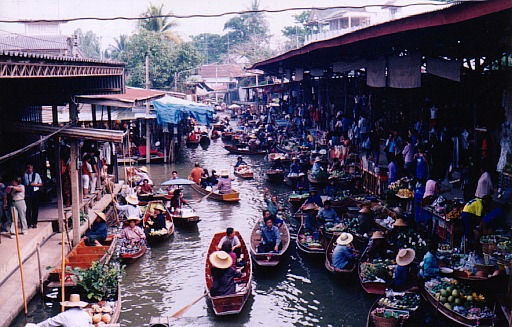 DAMNOEN SADUAK, Thailand
Rajaburi's most famous attraction is somewhere else, in bustling market town called Damnoen Saduak. The floating market is all the rage on postcards and promised to be a true Thailand experience. It was, but not as an earnest tourist might want it to be.
We paid twenty baht and spent ninety long minutes bouncing in the back of a pickup truck, only to be delivered to the middle of nowhere. A couple of men suddenly appeared and handed us promotional materials espousing the value of their guided boat rides through the market. As we had no other map, no indication where anything was and no hope of getting out, we were compelled to take them up on their offer. Though it was frustrating to be set up like this, a boat is truly the best way to see the market and strong-armed is the only way we would have taken one. The boat had a drag racing engine with a huge chrome muffler pipe that didn't seem to work poking up at an odd angle.
The market is set on a expansive network of narrow canals with rich muddy banks. More interesting than the market was the endless array of housing on the canals where little kids peed out their front doors into the water. The houses rested on rickety stilts and laundry hung out to dry in the humid air.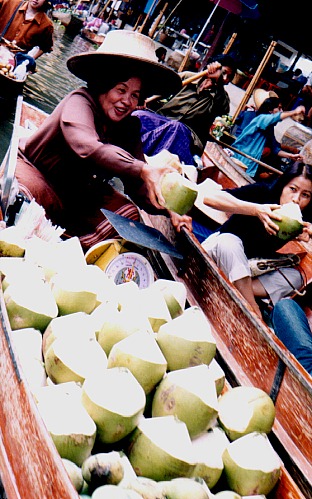 In the market proper we found a mix of old Thai ladies selling fruit and vegetables and younger Thais selling all manner of bric-a-brac. Anything with an "Amazing Thailand" slogan could be purchased at inflated prices. There was a variety of strange and useless items to be had as well: little wooden sculptures of naked women down on all fours, colored pencils made out of thick twigs and dead scorpions in frames. One couple had an intriguing racket, thrusting a hapless baby macaque into our hands as we floated past and demanding I photograph it. We thrust the poor monkey back and tried to escape. "Touch it," the man said, aggressively stroking the monkey as we looked on warily. "Take a picture. Touch it." Our boat captain seemed to enjoy putting us in situations with the pushiest vendors of all sorts."How much you pay?" people would ask when we shook our heads no, unable to believe we didn't want a motorcycle made out of artfully bent twigs or silk fans that unfurled into sun hats.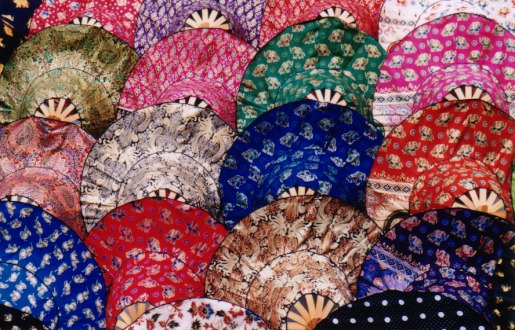 The older ladies who sold fruit and vegetables didn't much bother with us, drifting by and chatting amongst themselves. They might offer us their wares by waving a hand dramatically over a host of pineapples and quoting a very reasonable price. It often felt like there were two parallel markets going on, several decades apart.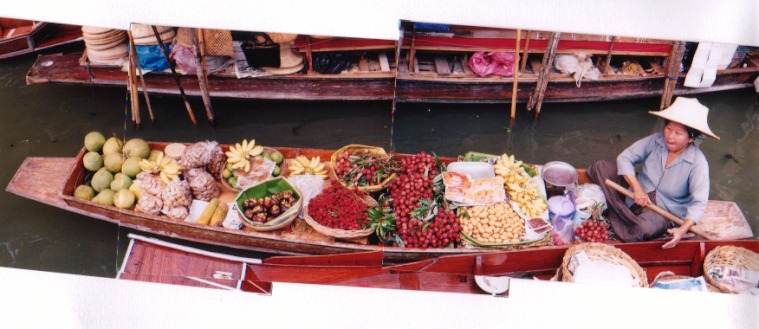 It is a western tourist arrogance to want this place to be what it was what it was before arrogant western tourists arrived. Floating markets are an old Thailand tradition and what we saw represented a new twist on this ancient custom. The knickknacks for sale and the outrageous prices reflect an authentic Thailand experience, one you expect in the crowded streets of downtown Bangkok. Despite the high prices and huge tourist market, most of the floating market vendors are impossibly poor. Being photogenic doesn't pay the bills. I admit being embarrassed floating through the market, feeling like the worst kind of cultural corrupter. And I only bought some bananas.